sissy colouring and wallpaper maker
pretty things to print out or put on your screen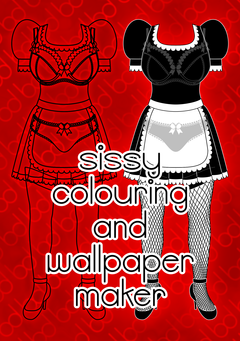 Colouring can be very relaxing, requiring an attention to detail that allows even adults to forget their everyday stresses for a while. What could be better to help a sissy unwind than a page of pretty panties and bras, or perhaps a sheet of maids, all ready to serve in their dresses and aprons? Even when he's focusing on filling in countless whorls of frilly lace, he'll be aware of the femininity of such garments, adding to the power of anything he wears himself.
Our sissy colouring and wallpaper maker allows you to print as many pages of adult colouring as you like. Alternatively, you can use it to create a background for a computer, tablet or phone - a perfect way to remind a submissive man of his place every time he looks at it. All the images are packed with little details, and each is guaranteed to be unique, but it only takes a couple of clicks to make one - no matter how long it might take your sissy to colour it in!
If you're a busy mistress, you need do nothing more than tell your sissy how many sheets you want to see completed, and the rest can be left to him. To make his colouring more challenging, you might specify more about what you want to see - perhaps every heart and dot coloured pink, something which will take more time with a pastel pencil than he might think! It's easy to find fault with a sissy's efforts if you want a pretext for punishing him, or else to turn his colouring into an exercise in humiliation - a packet of blunt crayons, let alone a pair of mittens, will give a submissive man ample grounds for apprehension when he knows he'll suffer for going outside the lines! Conversely, if your sissy is artistically minded, have him draw in the dresses that he might wear with the lingerie, or insist that he makes the maids more useful by adding brushes and mops. To spice things up even more, make a role model for him first, telling him you want to see him wearing an outfit as close as he can create to the one on screen. When he's appropriately dressed, he can start to colour - assuming you don't decide that his attempt warrants more in the way of discipline first!
A submissive man doesn't need a mistress to make use of this tool, it proving as relaxing to colour in a page for yourself as it is for someone else. Why not accept the lingerie you know you love to wear by setting your wallpaper to something suitably sissy as well? The abstract nature of the artwork means that you won't be disrespecting any woman even as you acknowledge the power of feminine clothing, with the repeated words providing a reminder of their own. Whenever you fancy a change, simply come back and make yourself something else - it will always be different, no two wallpapers ever being the same!
It should go without saying that, like everything else at brassièred, the sissy colouring and wallpaper maker is intended for adults only.
a note about browsers
My technical wizard has endeavoured to make the sissy colouring and wallpaper maker work on the widest possible range of devices, but we can't test it on everything! If you have problems, please see if it works better in a different browser, and contact me with the details.