punishment and reward picker
delegate his fate to a random roll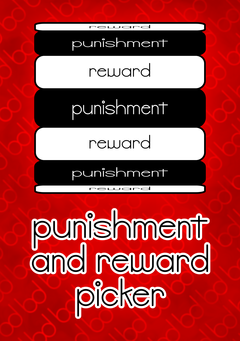 It's bad enough when a maid lets his mistress down, without him adding the burden of making her decide how he should be punished. Why should the lady of the house have to waste her time thinking about correcting an errant servant, when he's supposed to be there to spare her tedious chores? The same is true for keeping a submissive man busy, whether he's completed all the housework, or has so much to do that he doesn't know where to start! All that's before considering what, if any, reward a maid might deserve for his service - hardly something that can be delegated to him, no matter how dutiful he may be!
Our punishment and reward picker offers an answer to these questions, allowing you to leave the decision entirely to chance. You don't need to do anything more than tell your man to do what it says, but you can make him suffer a maddening wait while the possibilities roll around - a punishment in itself, even if the picker finally decides that he should be permitted pleasure!
Of course, you don't need to have a maid to make use of the picker - it works just as well when it comes to deciding what to do with a disobedient boyfriend or misbehaving husband! Nor need you restrict yourself to the suggested options, which have been chosen to require minimum effort from the mistress - you can add your own if you want to play a more active part in his punishment, or even replace them entirely. Whether you're looking for an easy way to select what your sissy should have to wear, or would like to liven up a session with a randomly chosen discipline implement, simply fill in the box with the possibilities (something which can be delegated to him if you don't even want to have to do that) and let the picker decide for you.
If you'd prefer things weren't entirely fair, you can bias the picker towards particular options by starting them with a number followed by a lowercase letter "x". For example, in the "rewards" picker, "not this time" is a hundred times more likely to appear than "my hand", whereas "my mouth" will never be rolled, even though all three will appear equally likely on screen. As well as rolling the picker immediately, you can also create a link for later use, or else to send to someone at a distance. After rolling, a second link is provided to confirm the result, with the possibility of repeated rolling prevented if you select the relevant option in advance. The only other choice you need to make is how you'll use the punishment and reward picker!
you might also like...
If you would rather roll something with images, have a look at our chastity dice.